Tableau, Census Data, and Web Data Connectors
Tableau, Census Data, and Web Data Connectors
Tableau seems to be very hot right now. At least I seem to see it listed frequently when I'm looking through job postings. From my perspective, Tableau takes a lot of the presentation power of Excel (not so much the high power modeling features of Excel) and moves it into a more contemporary platform, by which I mean it is browser-based. I've developed many, many scorecards, charts, visualizations, reports, and analytical tools within Excel and it makes perfect sense to adapt these kinds of deliverables into a browser-based tool.
Tableau has a public version that you can download for free and use to create and publish workbooks to Tableau Public for everyone to see. I'm still learning the features, and there are a lot of learning resources on the web if you search around.
One thing I wanted to do was to tap into a great, diverse data source and create some Tableau workbooks to play around with. My commute map used US Census data from the American Community Survey, and when it was making the rounds back in June I was contacted by the Census Bureau asking if I was aware of their API. I wasn't, though I wasn't surprised to learn of one. I decided to tap into this data as I learn Tableau, because the Census Data has great breadth of information but also has a terrific multi-tiered geographic component.
Tableau has the ability out of the box to accept data from a wide variety of data sources, but it also has a way for developers to build a conduit into Tableau from any data source. This standardized data conduit into Tableau is called a "Web Data Connector" and a number of organizations have built these to enable Tableau users to import data. I looked for a Web Data Connector (WDC) for the Census API, but wasn't able to find a working version. Always one to support scope-creep, I decided to build one myself and I did. It connects to the ACS Profile data for the five year estimate ending in 2014.
Unfortunately, I built it based on their WDC version 1.1 just as they were transitioning to a new version (2.0) with more features. If this gets any real use, I'll look at upgrading the connector to 2.0. Below is a step by step on how to retrieve Census Data into Tableau using my WDC:
Importing Census Data into Tableau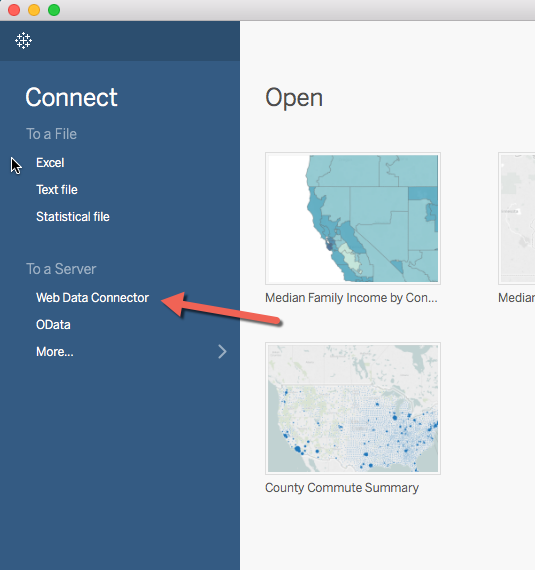 Obviously, in order to use the WDC, you have to have Tableau loaded and if you do and you start a new workbook, you should see that you can choose "Web Data Connector."
When you do choose "web data connector", you'll see a screen that asks for the WDC's URL. To use my Census Data WDC, you'll want to enter:
bigbytes.mobyus.com/tableau/censuswdc11.aspx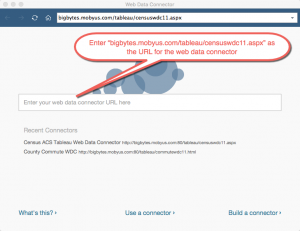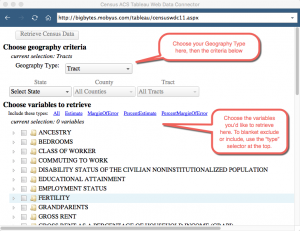 Once the data connector interface loads, you can choose a Geography (State, County, SubCounty, Tract, Zip Code, etc.) that you would like to retrieve and choose which variables you would like to include. The variables are one of the harder things to manage here. There are lots of them (about 2,500) and the names are cryptic. The list of variables for this particular Census dataset can be used as a reference.
You can use the hyperlinked text just above the variable list to include or exclude variable types. For example, if you want to include only "Estimates" then unselect the other three types "MarginOfError", "PercentEstimate", and "PercentMarginOfError".
"Estimate" is the nominal value you're probably most interested in. For example, if the variable is "population", then the "estimate" would be the estimated number of people living in the selected geography.
Once you've selected your criteria, click on the "Retrieve Census Data" button at the top of the web data connector interface. The system will then retrieve the data from the Census API and convert it into a format that Tableau can readily accept. You can then click on "UPDATE NOW" when the data is returned to finish creating the data table inside your new Tableau workbook.
Many of the geography types provided by this WDC are supported for mapping in Tableau so you can create heat maps and other visual representations quickly and easily once you have the data imported. Some of them work automatically, others need a little help. Feel free to email me or post a comment if you have questions on this.
I also created a shapefile web data connector for the US Census Tracts, a geography that isn't natively supported within Tableau. I'll be posting on how to use this to map Census data by Census Tract.
If this tool gets any significant use, I'll consider adding a dropdown at the top to allow users to choose data from other US Census datasets (10 year full census or other ACS datasets.) Let me know if you have any suggestions on how to extend this functionality. Here's a link to a quick map I put together using this data. It shows Census Tracts in Washtenaw County, Michigan by percentage of residents with graduate degrees. The bluer regions have higher levels of the population with grad degrees and the greener areas have lower levels. Can you guess where the University of Michigan is on this map?
Thanks!